Your adventure starts at our main office, located in Port Jervis, NY. Once checked in, we will transport your group to your launch site upstream where you will receive your equipment and instructions. Then, prepare to enjoy a relaxing fun filled adventure as you float down the river.
SKILL LEVEL Intermediate
SUGGESTED AGE 10+
TRIP LENGTH 2-4 hours
NUMBER OF PEOPLE 2 per boat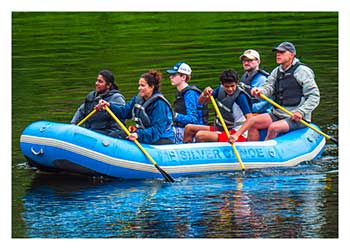 SKILL LEVEL Novice
SUGGESTED AGE 3+
TRIP LENGTH 3-5 hours
NUMBER OF PEOPLE 2-6 per boat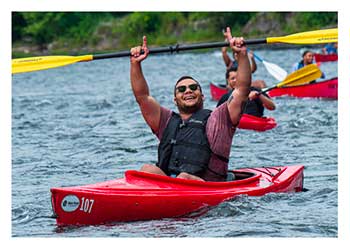 SKILL LEVEL Intermediate
SUGGESTED AGE 12+
TRIP LENGTH 2-4 hours
NUMBER OF PEOPLE 1-2 per boat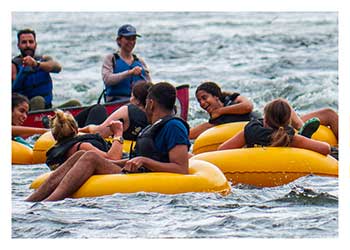 SKILL LEVEL Novice
SUGGESTED AGE 12+
TRIP LENGTH 1-3 hours
NUMBER OF PEOPLE 1 per tube
Trip Details
Silver Canoe & Whitewater Rafting offers one of the most popular trips on this section of the Delaware River.  The trip starts in Pond Eddy and finishes in Port Jervis and on average takes about 4 hours and spans a distance of 9 miles. On this trip you will paddle through a series of class I & ll rapids, such as; 'Staircase', 'Mongaup', 'Hawk's Nest', 'Mill Rift",  and 'Eddy Farm' rapids.
In between the rapids are calmer waters for you to relax and swim, sunbathe, picnic and much more! You will float through breathtaking mountain scapes including the spectacular and historical Hawk's Nest Gorge!
Trips are available to be booked at the top of every hour, starting at 9am until around 1pm. Reservations are recommend to ensure the boat and trip of your choice.
No glass containers/bottles are permitted on the trip as per park service regulations 
We do not allow pets on our trip for the safety of our equipment and other customers 
Any lost or damaged equipment will be charged to the responsible customer up to the current replacement value.
All equipment must be returned by 6:30 PM or late charges of $20.00 per person, per hour may apply.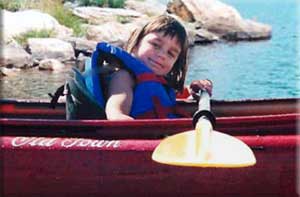 Bring the entire family and give the kids an unforgettable trip down the Upper Delaware River! Silver Canoe provides life jackets in all sizes for everyone in your group. All children ages 12 and under are required wear their properly fitted life jackets at all times. Children must weigh a minimum of 30lbs to join the fun.
Overnight/Camping Trips
Call Silver Canoe to book your overnight adventure down the Delaware! Start your overnight journey above Barryville, floating down through Pond Eddy and then ending at our Port Jervis landing. Trips can be customized to allow for 1 to 3 nights on the river.
Camping is allowed only in designated areas and is limited to a one night stay in each area, a permit is required through the National Park Service. Silver Canoe is also located close to national park camping areas such as High Point State Park and Stokes State Forest. There are also family campgrounds with many conveniences located within a 5-15-minute drive of Silver Canoe.
Overnight trips are by advanced reservation only.
We offer an 18mile barryville trip (2 day) and a 27 mile ten-mile trip (3 day)